HIS 6670 IceQ 2GB DDR3
ยี่ห้อ:
HIS
รหัสสินค้า:
H667QR2G
มีสินค้า:
ในสต็อก
IceQ Cooling Technology
HIS IceQ technology is endorsed as the most efficient cooling technology among the current mainstream graphic cards' series. HIS IceQ can actively draw the air inside your PC case to cool down the card, and blows amounts of hot air out of your case, dramatically decreasing the GPU temperature together with your PC components. HIS IceQ is also UV sensitive, enhancing the gamers' UV light case.

Heat transfers rapidly out of GPU and reduces temperature faster.


Cool down the droom to overclock and run chip faster; provides more headroom to overclock and run faster.


Operates with lower noise level than original cooler.
| | |
| --- | --- |
| Efficient transfer of heat outside of computer case ensures cooling in CrossFire setup | HIS IceQ is also UV sensitive, enhancing the gamers' UV light case |
Direct® 11 Evolved
Take advantage of improved performance and realistic effects of Microsoft Direct® 11 using AMD
AMD's second generation graphics solution offering full Direct® 11 support
AMD Radeon™ HD 6670 GPUS offer new tessellation capabilities. Let AMD Radeon™ HD 6670 Graphics give you the realism and detail in your games that you deserve
AMD App Acceleration
Tap into the processing power of your AMD Radeon™ HD 6670 GPU to accelerate applications with AMD App Acceleration capabilities. It allows you to do more,and do it faster
Enhance your Blu-ray movies, online streaming video and other HD content using your AMD Radeon™ HD 6670 GPU and get smoother – frame rate with improved image quality features
Decode DolbyR TrueHD and DTS HD Master Audio - for the ultimate in ultichannel audio delivering high quality surround sound over HDMI 1.4 for movie audio as it was meant to be heard
Put out Stunning Visual and Unrivaled Audio Experience with HD3D Technology
Add a 3rd dimension to your games using AMD HD3D technology. Support for hundreds of games in full 3D
Watch your 3D Blu-Ray movies in vivid color and rich detail using AMD HD3D Technology
Wide hardware support for 3D HDTV's, 3D Projectors, and 3D monitors, as well as supported Notebook systems.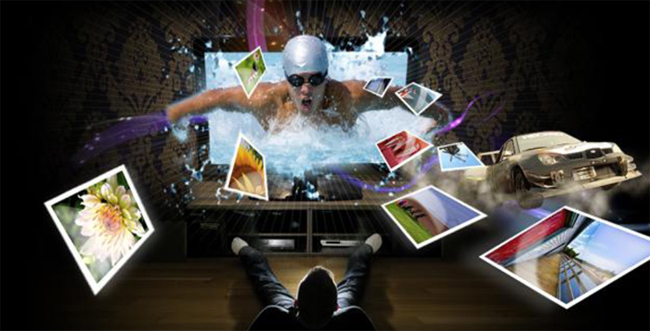 HD 6670 Features and Benefits
Features

Benefits

Microsoft® DirectX® 11 Support

Get intense gaming performance and unrivalled image quality with stunning 3D visual effects, realistic lighting and lifelike imagery, driven by AMD's second-generation DirectX® 11-capable graphics.

AMD HD3D Technology

Experience high quality, full stereoscopic 3D viewing of:

Blu-ray 3D movies
Games
Video/Movies
Photos

AMD CrossFireX™ Technology

Increase your gaming performance with AMD CrossFireX™ Technology

3rd Generation TeraScale Engine

Provides increased processing power and improved efficiency for the latest games and accelerated applications

40nm Process Technology

Provides enhanced processor performance while using less power and better transistor efficiency than previous generation technology

Accelerated Video Transcoding

Helps improve video transcoding performance

Display Flexibility

More flexibility with maximum connectivity for the latest display technologies

HDMI 1.4a

Helps ensure you get the full Blu-ray and PVR experience from your PC

Dolly®TrueHD and DTS-HD Master Audio Support

Get a fully immersive high-definition audio experience with the latest Blu-ray movies

AMD PowerPlay™ Technology

Power draw scales according to activity so when GPU activity is low, the power draw is minimal

Enhanced Unified Video Decoder (UVD) 3

Watch the hottest Blu-ray movies, online video and other HD content beyond 1080p with low power and low noise with GPU acceleration and enhanced Unified Video Decoder (UVD) 3 features

Enhanced Internet Browser Applications

A fast and smooth browsing experience with enhanced imagerendering, response, and media playback
The Power of HIS
The Excalibur, once owned by the invincible King Arthur, denotes the leader's mighty kingship with its mystical power and fascinating beauty and brings him triumph battle after battle.
Now HIS raises this sword again for gamers.
The Legend reborn... Prepare to conquer the gaming world!
HIS PRODUCTS ADVANTAGE
HIS delivers Faster, Cooler, Quieter plus the best quality product!
Professional customer service and technical support
What's in the box
HIS Graphics Card
Install CD with Multilingual User Guide &Quick Installation Guide
HIS Power Up Label
Model
HIS 6670 IceQ 2GB DDR3 PCI-E DVI/HDMI/VGA
GPU
RadeonTM HD 6670 GPU
Technology
40 nm
GPU Clock
800Mhz
Memory Clock
1 Gbps
Memory Size
2048MB DDR3
Memory Bus
128-bit
Bus Interface
PCI Express2.1 x16
DVI Port
1 Dual-Link DVI-D
HDMI Port
1
VGA
1
Maximum Resolution
2560*1600
Power Supply Requirement
400 Watt or greater power (500 Watt for ATI CrossFireX technology in dual mode)
เขียนความคิดเห็น
หมายเหตุ:

HTML นี้ไม่สามารถแปลได้!