HIS 5450 Fan 1GB D3 Hyper Memory 2.8 GB
ยี่ห้อ:
HIS
รหัสสินค้า:
H545HMFR1G
มีสินค้า:
ในสต็อก
HIS 5400 Key Advantage
DirectX® 11 - Perfect for playing popular games online, the ATI Radeon™ HD 5450 offers full DirectX® 11 support
ATI Stream - Accelerate demanding applications and do more than ever with your PC, Unleash the massive
parallel processing power of your GPU to help speed up your PC
Home entertainment experience - give you stunning high definition entertainment from your PC, whether Blu-ray/HD DVD discs or other HD sources. Get an amazing entertainment experience with DirectX 11 and Windows 7
Low Power Consumption - Consumes less than 20 watts under full load
Different brakets combination to fit in your PC case - Full-height & half-height brackets included
Different bracktes combination to fit in your PC case

The Power of HIS
The Excalibur, once owned by the invincible King Arthur, denotes the leader's mighty kingship with its mystical power and fascinating beauty and brings him triumph battle after battle.
Now HIS raises this sword again for gamers.
The Legend reborn... Prepare to conquer the gaming world!
Microsoft DirectX® 11 Support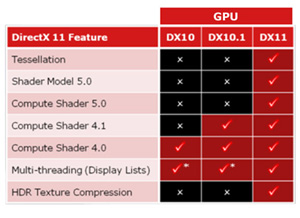 ATI RadeonTM HD 5400 Series GPUs fully support Microsoft DirectX® 11, enabling the following:
Tessellation is now available to PC developers for real-time rendering with ultra-realistic characters and an incredible level of detail with 3D images
HDR Texture compression delivers an intense level visual detail without increasing graphics memory footprint with efficiency and incredible image quality
Multi-threading support for DirectX® 11 accelerates rendering by leveraging all the CPU cores for overall faster gaming performance
DirectCompute improves PC performance by taking on some or all of a DirectX 11-enabled application's processing load, freeing up the computer's
Microsoft® Windows 7®
Designed to deliver all the benefits of Microsoft Windows 7 OS including built-in drag and drop transcoding
ATI RadeonTM HD 5400 Series Key Features
292 million 40nm transistors
TeraScale 2 Unified Processing Architecture

80 Stream Processing Units
8 Texture Units
16 Z/Stencil ROP UnitsPolygon throughput: 650M polygons/sec

Data fetch rate (32-bit): 20.8 billion fetches/sec
Texel fill rate (bilinear filtered): 5.2 Gigatexels/sec
Pixel fill rate: 2.6 Gigapixels/sec
Processing power (single precision): 104 GigaFLOPS
Compliant with DirectX® 11 and earlier revisions
ATI Stream technology
Designed for DirectCompute 11 and OpenCL
Accelerated Video Transcoding (AVT)
Compliant with DirectX® 11 and earlier revisions
Supports OpenGL 3.2
ATI AvivoTM HD video and display technology
ATI PowerPlayTM technology
ATI CrossFireX™ multi-GPU technology
PCI Express® 2.1 support
HIS PRODUCTS ADVANTAGE
HIS delivers Faster, Cooler, Quieter plus the best quality product!
Professional customer service and technical support
What's in the box
HIS Graphics Card
2 x Half Height Brackets
Install CD with Multilingual User Guide
Quick Installation Guide
Chipset
5450
Core Clock
650 MHz
Memory Clock
1300 MHz
Memory Size
1024 MB
Memory Bus
64 bit
Card Bus
PCI Express x16 (PCI Express 2.1)
Memory Type
DDR3
Card size
12.4×2.2×17.8 cm
เขียนความคิดเห็น
หมายเหตุ:

HTML นี้ไม่สามารถแปลได้!