MSI Z170A GAMING M5
ยี่ห้อ:
MSI
รหัสสินค้า:
MBD-MSI-Z170AM5
มีสินค้า:
ในสต็อก
Supports 6th Gen Intel® Core™ / Pentium® / Celeron® processors for LGA 1151 socket
Supports DDR4-3600+(OC) Memory
DDR4 Boost: Give your DDR4 memory a performance boost
USB 3.1 Gen2 2X FASTER: USB 3.1 Gen2 offers performance twice as fast as a regular USB 3.0 connection
Twin Turbo M.2 64Gb/s + Turbo U.2 ready + USB 3.1 Gen2 Type-C + Type-A combo + SATA 6Gb/s
GAMING LAN with LAN Protect, powered by Killer™: The best online gaming experience with lowest latency
Audio Boost 3: Reward your ears with studio grade sound quality
Nahimic Audio Enhancer: Immersive sound quality that pushes the limits of reality
Game Boost: This one goes up to eleven; 11 levels of easy overclocking
GAMING Hotkey: Assign macros, launch your favorite games or do real-time overclocking using a single button
Designed for overclocking: with OC Essentials and OC Engine 2
XSplit Gamecaster v2: 1 year free premium license to show off your skills and achievements to the world
SteelSeries Certified: Optimized for SteelSeries gaming gear
Military Class 5: The latest evolution in high quality components featuring the brand new Titanium Chokes
MULTI-GPU with Steel Armor: Steel Armor PCI-E slots. Supports NVIDIA SLI™ & AMD Crossfire™
Click BIOS 5: Award-winning brand new Click BIOS 5 with high resolution scalable font
GAMING CERTIFIED: 24-hour on- and offline game testing by eSports players for the best gaming experience
MASTER THE GAME
To master the game you need a masterful system. The MSI Enthusiast GAMING motherboards are honored with the suffix "M for Master" to cite its truly outstanding design, ready to guide you to the next level in gaming.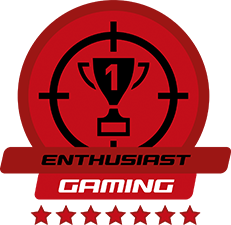 Unmatched memory performance and stability
With traditional memory design the memory signals are often distorted by electromagnetic signals from other components, making the system perform slower or become unstable. MSI introduces DDR4 Boost technology with optimized traces and fully isolated memory circuitry. This design ensures the memory signals stay pure for optimal performance and stability.
An added XMP LED highlights an active Extreme Memory Profile for the best memory speed and stability setting.
Dominate the game with lowest latency
Get ready to crush your enemies on the battlefield with MSI® GAMING LAN, featuring carefully selected components to ensure the best online gaming experience without lag.
True Gaming LAN with Killer™
Designed with gaming DNA, Killer™ LAN is optimized for championship level online and LAN eSports.
The new Killer E2400 Intelligent Networking Platform, featuring Advanced Stream Detect 2.0, is built for maximum networking performance for online games and high-quality streaming media. Killer™ LAN automatically detects and accelerates game traffic ahead of other network traffic for smoother, stutter-free in-game performance and the competitive edge.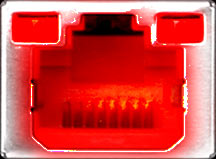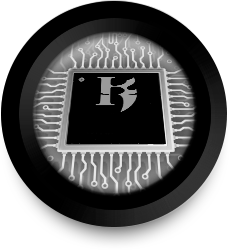 Gaming optimized bandwith management
Dedicated to giving you the best online gaming experience with optimized traffic prioritization and low latency, MSI GAMING LAN Manager automatically classifies and prioritizes the latency-sensitive applications for online games.
MSI GAMING LAN Manager
Automatically prioritizes games above other applications
Allows you to change applications' traffic priority
Allows you to customize you to customize bandwidth for each application


LAN Protect
Featuring 15KV anti-surge protection to shield your network from lightning strikes and static electricity, LAN Protect is a LAN connector designed to give you the best networking experience. It's highlighted with a red LED inside the RJ45 connector to show its functionality.

Reward your ears with studio grade sound quality
With Audio Boost 3, powered by Nahimic Sound Technology, we're delivering the highest sound quality through the use of premium quality audio components. That way, you can enjoy breathtaking, crystal clear sound and music through 8-channel HD Audio or high impendence headphones and truly dominate the game.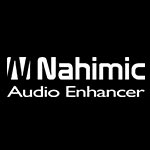 Nahimic Sound Technology
Offering immersive virtual 7.1 sound in high definition using exclusive stereo equipment.
More on Nahimic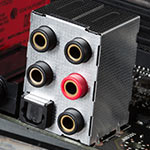 Golden Audio Jacks
With golden audio connectors you get the best possible signal output with less chance of distortion.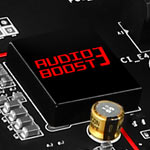 High Quality EMI-Shielded HD Audio Processor
Audio Boost 3 is fueled by a EMI-shielded high quality HD audio processor, making sure you enjoy the purest sound quality.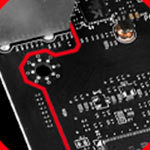 Isolated Audio PCB
Audio Boost 3 acts like a dedicated soundcard by physically isolating the audio circuitry to give you a more clear audio signal.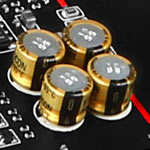 Chemi-Con Audio Capacitors
Delivering high fidelity crystal clear sound with exceptional acoustics and realism.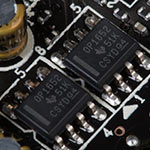 Dual Headphone Amplifiers
The built-in dual headphone amplifiers rewards your high quality headphone with studio level sound quality up to 600Ω delivered from your gaming PC.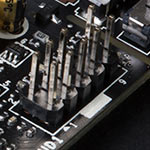 Front Dedicated Headphone Out
Convenient use of the front panel audio output while retaining high quality amplified sound.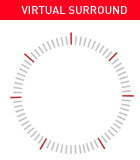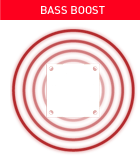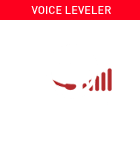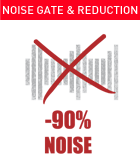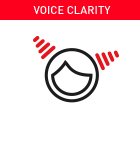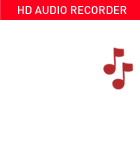 WITH NAHIMIC, ENJOY SOUND THAT PUSHES THE LIMITS OF REALITY .
Nahimic sound technology has been approved for its quality and precision in projects undertaken by the military field and the aeronautics industry. It offers immersive virtual 7.1 sound in high definition using exclusive stereo equipment.
Nahimic lifts your gaming experience to a new level, offering you highly sought-after gaming benefits:
GAME BOOST
Overclock your system instantly and generate more FPS in games with 1 push of a button using Game Boost! You can also easily enable XMP using the XMP button in Click BIOS.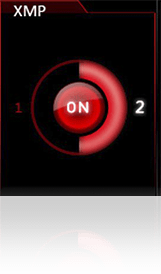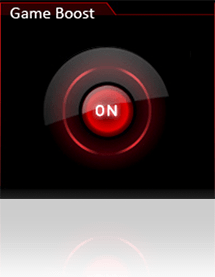 *Features may vary according to your platform and model
GAMING HOTKEY
Gaming Hotkey enables more functionality using your own keyboard. Simply assign functions or macros to any key and launch your favorite games, load overclocking profiles or do real-time overclocking with the push of a single button. The possibilities are endless!
Customize any key on your keyboard
Up to 8 steps macro programming
User friendly, easy to use application
1 key load up of your favorite game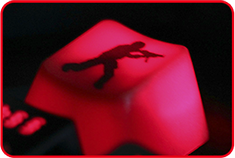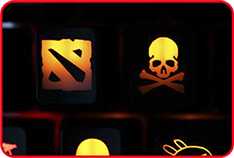 TOTAL FREEDOM, MAXIMUM EASE
Easily program your most used commands to be executed with a single keystroke. You are free to choose any key you want.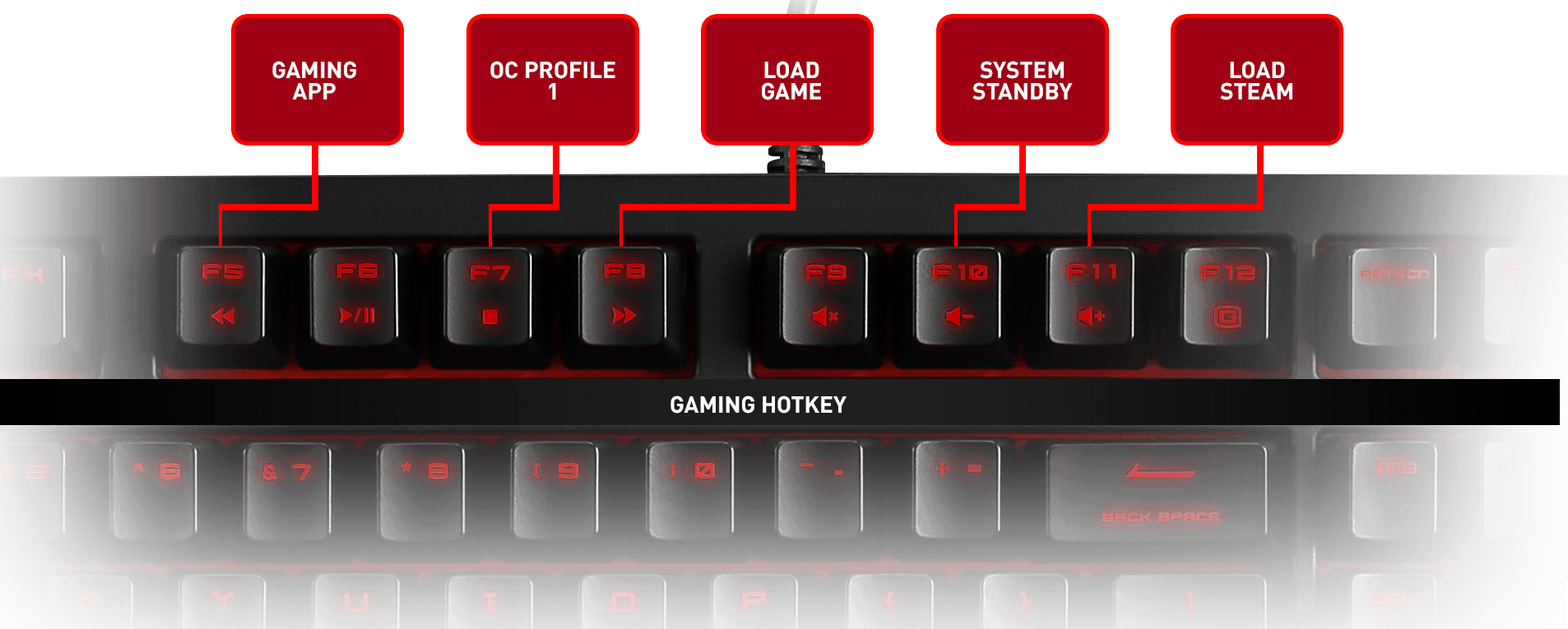 *Real GAMING Hotkey settings depend on the configuration
Hotkeys
Assign your own keyboard combinations
Windows keys
Quick launch any application or folder
Quick launch of mail, browser or more
MSI® Smart keys
One press to login (program passwords)
Login Keys
2X FASTER


MSI USB 3.1 GEN2

Transfer your favorite games, music and movies over USB faster than ever. USB 3.1 Gen2 enables lightning-fast transfer speeds up to 10Gb/s!

Benefits
2X faster than USB 3.1 Gen1
20X faster than USB 2.0
Up to 10Gbps data transfer bandwidth
Boost transfer rate for your PC and peripherals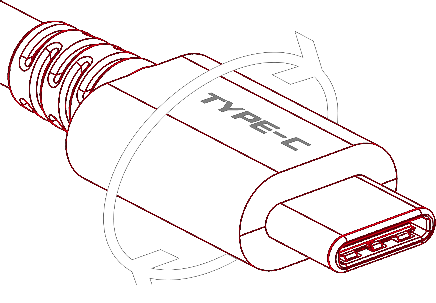 Type-C with reversible design
Get all the performance benefits from USB 3.1 Gen2 combined with the convenience of the USB Type-C connector. This reversible connector allows for effortless connecting of USB devices.
SUPER CHARGER
With MSI Super Charger you can deliver more power than regular USB chargers to your smartphone, tablet, USB game controller or portable console. You can quickly charge these devices when you're not gaming on your PC, eliminating the need for wall power sockets.
USB REDRIVERS
USB 3.1 Gen1 signal integrity suffers with longer cables. The special USB 3.1 Gen1 Redrivers connected to the internal USB 3.1 Gen1 ports on MSI motherboards, enable you to use longer USB 3.1 Gen1 cables, especially in larger chassis.
FRONT USB 3.1 Gen1
With a cleverly placed USB 3.1 Gen1 front pin header on MSI motherboards, you can connect up to 4 USB 3.1 Gen1 devices directly to the front of your PC Chassis. This way you can easily enjoy fast USB speeds without having to use the hard-to-reach USB ports at the rear.
DOUBLE ESD PROTECTION
The front USB 3.1 Gen1 ports on MSI motherboards are protected by a set of protective ICs to prevent damage caused by Electrostatic Discharge (ESD) from plugging/unplugging USB devices.
Fast storage with SATA Express
SATA Express offers a solution in high speed storage through PCI-Express, providing more bandwidth for the latest generation SSDs up to 16 Gb/s.
Twin Turbo design
Delivering speeds up to 64Gb/s using Gen3 x4, Turbo M.2 is over 10 times faster than a regular SATA III connection! Enjoy a blazing fast system boot up and insanely fast loading of applications and games with MSI motherboards.
Turbo U.2 Host Card (optional)
The U.2 Host Card delivers performance up to 32 Gb/s and allows support for next gen 2.5-inch SSDs using the U.2 connector. A redriver chip is added to increase data transfer speed.
Supports
Designed for Overclocking
With a long history of breaking world records inherited from MSI's legendary Overclocking motherboards, this motherboard has OC running through its veins. Built from the ground up to support heavy overclocking, from its OC PCB to Military Class components, you know this MSI motherboard is ready to push the limits!
Extreme Socket Design

Premium Power Phases

DIGITALL POWER

Overvoltage Protection
Sky's the limit with OC Engine 2
OC Engine has been beefed up for MSI Z170 motherboards. This external clock generator gives you even more freedom to achieve the absolute maximum overclock for your setup. OC Engine 2 also offers lower jitter and lower power consumption resulting in even higher stability under extreme conditions. The sky is the limit!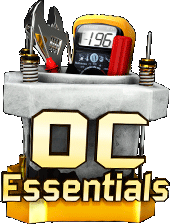 OC Essentials
Meet the overclockers' swiss army knife; OC essentials is a set of tools that are essential to get the best performance out of your motherboard. These features increase stability, assist in trouble shooting, allow you to keep your complete system in check and allow for simple management. This way you can keep your mind on overclocking.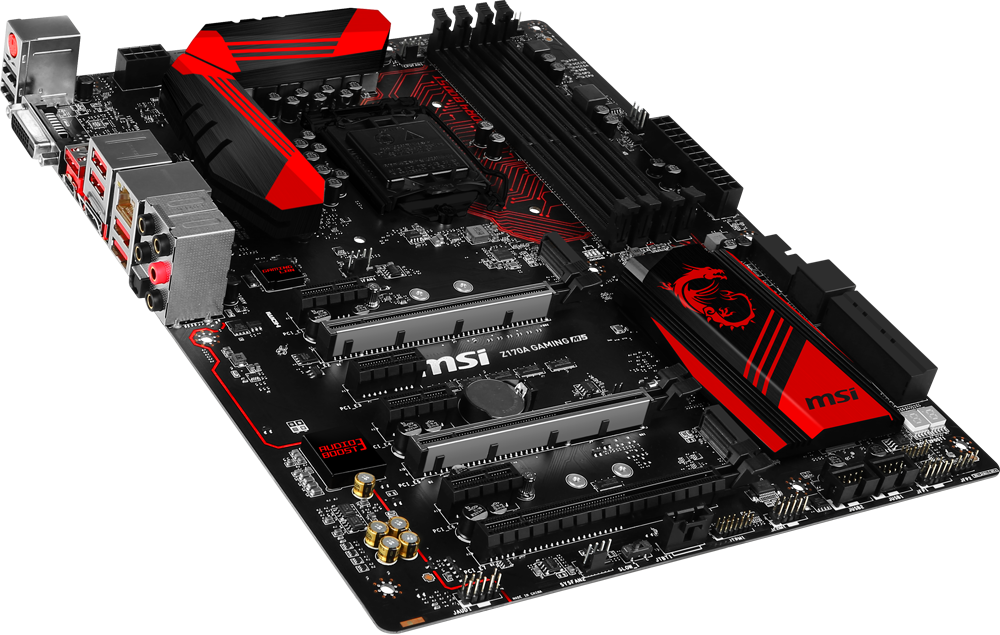 V-Check Points 2 Lite
Accurately monitor your voltages while overclocking. V-Check points 2 Lite supports legacy and modern multimeters for optimal monitoring of voltages.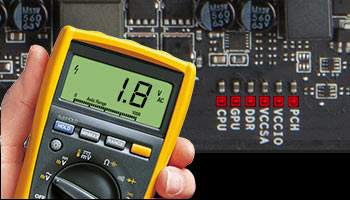 Debug LED
A 2-Digit Debug LED is present for easy diagnostics. While operational it also displays the CPU package temperature.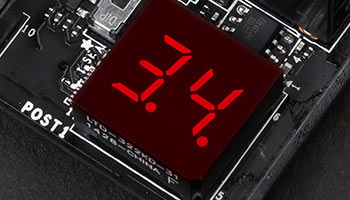 Slow Mode
Slow Mode helps to defeat booting issues when overclocking at extremely high CPU frequencies. Flicking the switch will temporary decrease CPU ratio below stock settings, creating stability to successfully boot to Windows.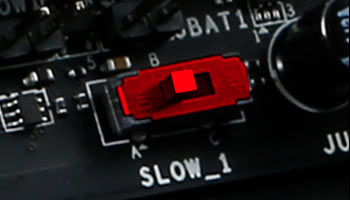 SteelSeries Certified
Get ready to enjoy the best gaming experience with MSI & SteelSeries!
Enthusiast gaming gear brand SteelSeries has officially approved MSI GAMING motherboards as 'SteelSeries Certified (SSC)'. This certification is based on the performance demands and stability of MSI GAMING motherboards and SteelSeries products. Your SteelSeries headset, mouse and other top quality gaming gear works best on MSI GAMING motherboards.
GAMING CERTIFIED
Our GAMING motherboards are tested in our gaming lab, internet cafes and together with the world's best eSports players to make sure you get top performance and reliability in the world's most popular games. Through 24-hour on- and offline game testing, MSI ensures the onboard network configuration, audio reception and FPS performance are tested and tuned to perfection for you to enjoy the best possible gameplay experience.
Only the motherboards that pass this test receive the GAMING CERTIFIED status and are considered true MSI® GAMING motherboards.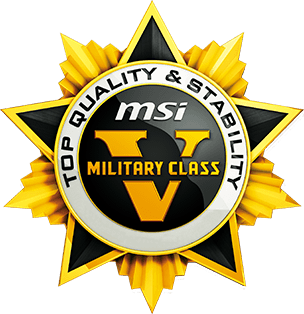 MILITARY CLASS 5 COMPONENTS
Military Class 5 is the latest evolution in high quality components. The Titanium Choke and Dark CAP ensure that your PC runs stable under extreme gaming conditions.

Titanium Choke
Titanium Choke uses a Titanium core that has better ability in thermal and higher temperature tolerance. This allows the Titanium Choke to run at a 220 degree Celsius high temperature, have a 40% higher current capacity, a 30% improvement in power efficiency and better overclocking power stability.

DARK CAP
With their aluminum core design, Dark CAPs has been a staple in high-end motherboard designs and provides lower Equivalent Series Resistance (ESR) as well as its over-10-year lifespan.
Optimized for multiple graphics cards
This motherboard supports SLI / CrossFire. Optimal PCI-Express slot placement allows for better fitting and airflow.
That way, you can enjoy the best graphics at the highest framerate jumping from your screen when running an NVIDIA® SLI™ or AMD CrossFire™ setup.
Prevent damage!
Worried about damaging the PCI-Express slot or your graphics card because of the weight?
MSI® Steel Armor
Steel Armor has more solder points on the PCB for more strength and protects the PCI-Express signals against electromagnetic interference for a stutter-free gaming experience and higher GPU overclocking.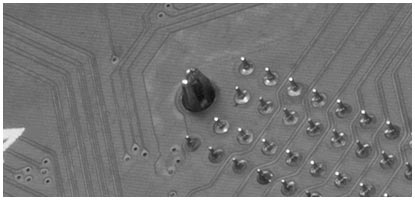 OthersNo strengthening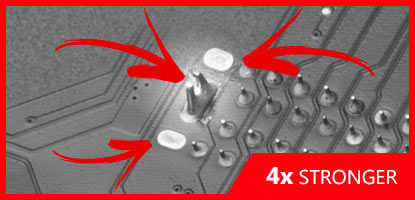 MSI® Steel ArmorReinforced, heavy soldered connections

THE ALL NEW, AWARD-WINNING CLICK BIOS 5

Explore the greatly improved, award-winning CLICK BIOS 5 and use it to tune your system to maximum performance to get the most out of your games. MSI CLICK BIOS 5 is the next generation UEFI BIOS with optimizations for Windows 10.
Control your system in two modes: EZ mode, for the most used settings and functions. Advanced mode for more detailed settings and fine-tuning options to boost your system's performance.
Variety of options to boost your game performance

Next gen UEFI BIOS with award winning design

High-resolution multi language scalable font

Easy to use

Advanced overclocking
OTHERS
Low res, non-scalable
CPU Support
i7
Socket Type
1151
Chipset
Intel® Z170 Express
Memory
DDR4 3600(OC)/ 3200(OC)/ 3000(OC)/ 2800(OC)/ 2600(OC)/ 2400/ 2133 MHz
PCI-Ex16
3
PCI-E Gen
Gen3
PCI-Ex1
4
USB 3.1 ports (Rear)
4(Gen1), 2(Gen2)
SATAIII
6
LAN
10/100/1000*1
USB 2.0 ports (Rear)
2
Audio ports (Rear)
5 + Optical S/PDIF OUT
Form Factor
ATX
เขียนความคิดเห็น
หมายเหตุ:

HTML นี้ไม่สามารถแปลได้!